Storm Rachel hit Ireland and surrounding waters on Wednesday 14th and Thursday 15th January 2015.  This power of this storm prompted Met Éireann, Ireland's National Meteorological Service, to issue a red warning – their highest level of warning – for parts of the west coast.
All of our navigational buoys experienced high winds and severe gusts, but our MetOcean Smart Buoys were able to tell us exactly how strong the winds were and continued to Tweet their information in real time during the storm.
The highest gust that we recorded during this storm was 75kts (138km/h) by Coningbeg Buoy at 18:26 on Wednesday 14th January.  The table below shows the highest gusts that were experienced by each of our buoy.
Our live webcam that is situated on the Kish lighthouse in Dublin Bay also continued to provide real time video of the sea conditions at the time.  The live video feed can be viewed here, on our website, and it is best viewed through Firefox.  The image below is a still image from the conditions on Thursday afternoon.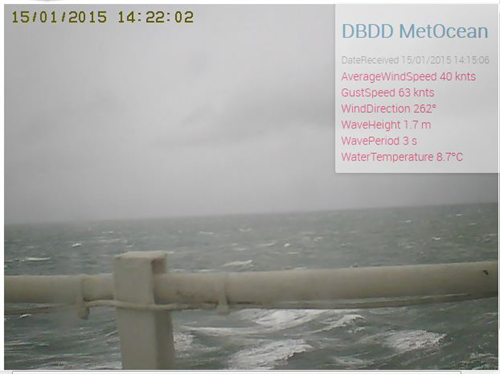 More information on our Smart Buoys and comparison charts can be found here: /technology-data-services/metocean-charts.aspx