Ireland was struck by a succession of Atlantic storms at the end of 2013 and beginning of 2014.  The west and south coasts of the country were most affected by the extreme storm force winds, driving rain and tidal surges.
During this period, all of our aids to navigation (AtoN) remained operational and we continue to monitor them from our control centre in Dun Laoghaire, Co Dublin.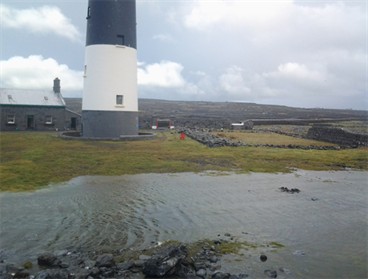 Flooding and structural damage (Inisheer lighthouse)
Our lighthouse attendants alerted us to some incidents of structural damage and we are currently inspecting exposed onshore and offshore lighthouses by helicopter to assess the nature and extent of this damage.  Varying degrees of structural damage have been reported with the most significant damage occurring at Inisheer (Co Galway), caused primarily by the collapse of sections of the perimeter and compound walls.
At Inisheer, the compound perimeter walls (2.8m high and 1m deep) and internal walls were destroyed by the force of the storm. Rocks and boulders were also tossed against the adjacent walls.
Flooding, damage to access roads, fallen trees, and removal of roof slates are among the reported incidents at the following lighthouses: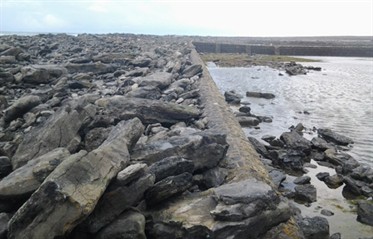 Rocks washed against the 2.8m high compound wall (Inisheer)
Baily, Co Dublin
Castletownbere, Co Cork
Cromwell Point, Co Kerry
Loop Head, Co Clare
Inisheer, Co Galway
Blacksod, Co Mayo
To share your pictures or stories of these storms, see our Facebook page.
If you would like to contact us, email us at info@irishlights.ie  or phone us at 01 2801996 for emergencies.
---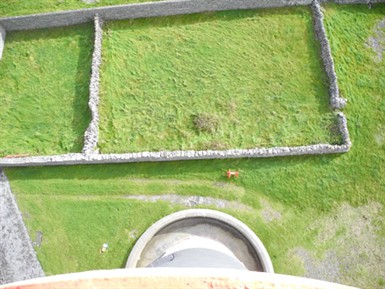 Before and after the storm -  internal walls were washed away along with sections of the 2.8m tall and 1m deep perimeter wall.
---