Renewable energy - cutting costs and benefiting the environment
We now use renewable energy power sources to power the vast majority of our offshore and remotely located Aids to Navigation (AtoN).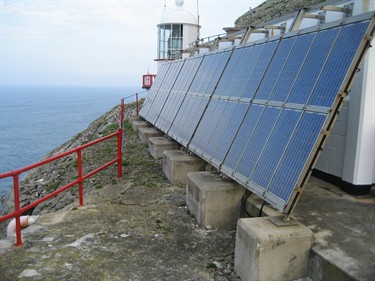 This is generally achieved by combining:
solar power
batteries for storing electrical energy and
low-energy Light Emitting Diode (LED) lights
This provides an efficient, low-energy, low-maintenance system.
We seek to provide a technologically advanced aids to navigation service at the least possible cost, in compliance with national and international obligations.
Given the remoteness of our infrastructure and use of a helicopter and/or ship for offshore operations, a high carbon footprint is unavoidable. However, technological progress has led to a reduction in this footprint.

New technologies
Today's ability to generate power directly from the sun, sea and wind has had a dramatic effect on our provision of AtoN, and enabled substantial environmental benefits and cost reductions.
Not long ago most of our major offshore lighthouses were powered by diesel generators, producing electricity for the lighthouse and associated equipment. Where feasible, wind-powered generators or solar panels are now used.
With technological advances such as super-bright LEDs, solar panels and a reduction in the light range required for navigation, the power requirement for major lighthouses has been reduced, along with the need for diesel-powered generators, while light intensity is maintained.
Solar power 

Many of our lighthouses have been converted to use photovoltaic solar power and all our buoys are solar-powered. Solar energy is used to charge powerful batteries which then power the light when it is required.  Some higher-spec buoys also use wave-activated generators (WAGs) to maintain increased power levels. We are trialling solar water heating (SWH) systems on some of our offshore lighthouses.
Wave power
Wave-activated generators (WAGs) are fitted on the top of the central pipe of a marine buoy to take maximum advantage of the up-and-down motion of the buoy on the water surface. Inside the central pipe, water also moves up and down, compressing the air within. This activates an air turbine in the WAG, which is coupled to an electrical generator.

Wind power
We have occasionally used wind-powered electric generators to provide power to lighthouses. Solar power is generally preferable as wind turbines are prone to damage in high winds and need more regular maintenance. 
Historical approaches
The generation of power has long been a difficult issue for us. Throughout the centuries, various solid fuels, oils and gases have been burned at night to exhibit a light for the benefit of mariners. As technology developed, so did the experiments. Even nuclear power was trialled on one occasion.