Data, communications and e-Navigation services
We can provide you with communications, e-Navigation and data services using our coastal and marine network infrastructure.
Our coastal communications infrastructure, for monitoring our aids to navigation (AtoN), incorporates technologies such as Automatic Identification System (AIS), Remote Controlled Monitoring System (RCMS) and 3G, with the addition of 4G being investigated.
The case studies, on the right, describe some recent projects highlighting this technology in action.
Sensors on MetOcean buoys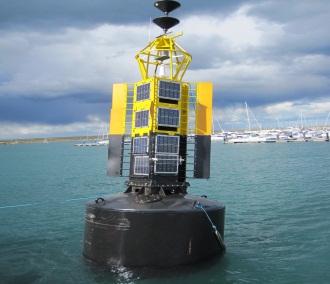 We provide and maintain over 150 navigation buoys around Ireland. We build and refurbish these buoys at our facility in Dun Laoghaire, Co Dublin and deploy them at sea from the ILV Granuaile. These buoys range from small plastic models, suitable for estuary use, to large steel buoys that are suitable for offshore deployment and severe environmental conditions.
As part of the buoy construction, data-processing and communications capabilities are added to meet our monitoring requirements. Buoys can be fitted with sensors to record MetOcean data which can then be transmitted using our coastal communications network.
For example, we enable highly precise wind, visibility, air and water temperature measurements for Met Éireann at designated buoys and lighthouses. Data is relayed from these remote locations to Met Éireann.
Connectivity from our buoys for monitoring purposes is typically conducted over VHF using our automatic identification system (AIS) network, but other options are available for large datasets and deep-sea monitoring. Solar panels are used to charge on-board battery packs, allowing continuous running of systems and enabling 24h monitoring services.
Sensor options include:
Wind/gust speed and direction
Air and sea temperature
Barometric pressure
Humidity
Wave data
Current profiles
Radar transponder
Pollution information
Sensors on lighthouses
Our lighthouses are located at strategic points around the coast of Ireland. For monitoring purposes, our sites are being upgraded to include 3G communication capabilities. This means that Wi-Fi and 3G are available to third-party organisations that seek to use our sites for equipment placement and deployment. We are also planning for 4G deployment.
LIDAR wind sensors, radars and seismometers have been installed on our lighthouses for data collection by academic institutions and renewable energy companies.
Data solutions
To complement this data capture, our in-house team develop data analysis applications and solutions which can provide data to customers in a range of different formats.  These include social media (e.g. Twitter), raw data transmission, web services, SMS messaging, mobile, RSS feeds, JSON feeds and web applications.  We are happy to discuss any alternative data requirements that you may have and offer our expertise in the area.
For further information, please contact our Technology & Data Services team.
Email:       info@irishlights.ie
Phone:     +353 1 271 5400