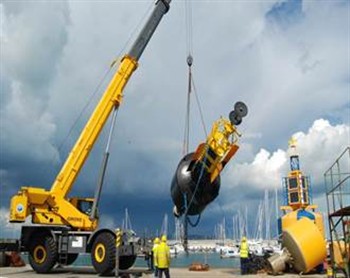 The thousands of people who flocked to Galway for the 2012 Volvo Ocean Race could not only watch the sun go down on Galway Bay, but also spot a novel visitor south of Mutton Island – a large buoy that was busily tweeting not only information about sea and weather conditions but also updates on the race.
Galway won out over 81 competing cities around the globe to host the end of the offshore race – as well as an estimated 600,000 visitors – between 30 June and 8 July. To coincide with the event and the accompanying festival in Galway, the Commissioners of Irish Lights collaborated with the Marine Institute, Techworks Marine and IMERC in a highly successful R&D project.
The project aim was to demonstrate the potential for combining social media technologies with sensor developments, using our coastal and marine network infrastructure.
Project Diary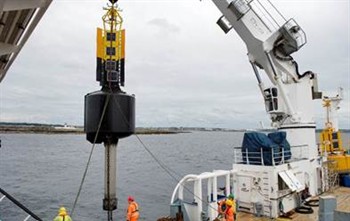 Off to Galway!: In early June 2012, the Type 1 South Cardinal Superbuoy leaves our headquarters in Dun Laoghaire on the ILV Granuaile and travels around the coast to Galway Bay. Twitter and Facebook updates on the buoy's journey build a public following and raise awareness of the upcoming events.
Buoy is launched: The buoy is launched in Galway Bay on 14th June to coincide with the launch of the Ocean Wealth Showcase on-board the ILV Granuaile.
Race updates and weather/sea information tweeted: The Twitter account, @GalwayBuoy, broadcasts readings several times an hour. It also publicises events relating to the Volvo Ocean Race and associated on-shore activities at the festival. All the information is presented from the buoy's perspective, to give the buoy a personality, engage the public, and capture their imagination and interest in the workings of Irish Lights.
Both the Twitter and Facebook feeds are kept up to date with articles and content, including photos and video of events and items of interest. 
The buoy's three sensors measure average wind speed, direction, gust speed, visibility, significant wave height, wave period, air temperature, barometric pressure, water temperature and salinity.
The data acquired from the sensors is transmitted over the AIS and GSM networks, processed and transmitted automatically to the Twitter feed.
Race alerts: As the raced reaches its conclusion, automatic alerts are issued when each competing yacht comes within range of Irish Lights stations off the south and west coast of Ireland. 
MetOcean data charts are automatically generated and updated to provide a real-time graphical representation of the data, and are published on our website.
Tweeter feedback
"… you helped make the Volvo Ocean race a great event"
"Well done for all the arrivals updates. Just like being there in person …"
"… excellent and timely information !!"
---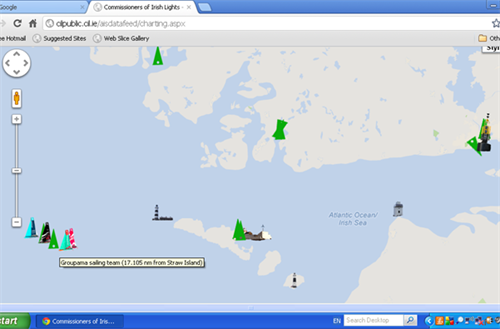 Screenshot of Volvo yachts approaching Straw Island on way to Galway Harbour
Sensor measurements & collaboration process
While on board the ILV Granuaile the Galway Buoy had 3 different sensor units installed, calibrated and configured to measure the following parameters:
| | | |
| --- | --- | --- |
| Field | Measurement | Range |
| Average Wind Speed | Knots | 10-min max wind speed |
| Wind Direction | Degrees | 0-359 |
| Gust Speed | Knots | 10-min max wind speed |
| Horizon Visibility | Nautical Miles | 0-25.0 |
| Wave Height | Meters | 0 to 25 |
| Wave Period | Seconds | 0 to 60 |
| Air Temperature | Degrees | -60.0 to +60.0 |
| Air Pressure | HectoPascals | 800 to 1200 |
| Water Temperature | Degrees | -10.0 to 50.0 |
| Salinity | Percent | 0.0-50.0 |
Data from the sensors was transmitted via AIS and automatically processed by a custom application written by our developers. Techworks Marine placed a data logger on the buoy which constructed the AIS messages. A backup stream was available via the GSM network.  
We provided the data to the Marine Institute and SmartBay Ireland through data feeds in both RSS and JSON formats, which they used to automatically tweet the information.
Two accounts, two audiences
We used two accounts (GalwayBuoy and GalwayBuoyData) so that two different audiences could receive the data:
GalwayBuoy for a general audience – tweeting summarised weather information and social information relating to the Volvo Ocean Race
GalwayBuoyData for those interested in MetOcean data – tweeting detailed weather information regularly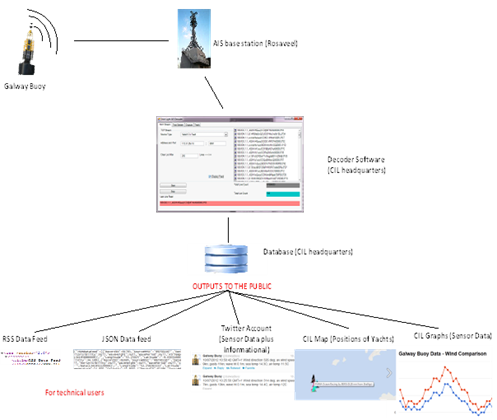 Graphical representation of Galway Buoy sensor data dissemination
Reach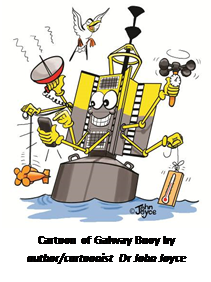 The Galway Buoy Twitter feed (@GalwayBuoy) reached almost 900 Twitter followers and received 163 'likes' on the GalwayBuoy Facebook page. A social media analysis tool (SproutSocial) suggested a reach of a potential 1.5 million unique viewers with access to all the information posted on Facebook or tweeted via Twitter.
The Galway Buoy account was popular with local users of Galway Bay, who used the MetOcean data to check weather conditions. Several changes were made to the range and format of data presented following constructive feedback from users.
Sample tweets from Galway Buoy.
The following are some sample tweets which can be seen on the Twitter account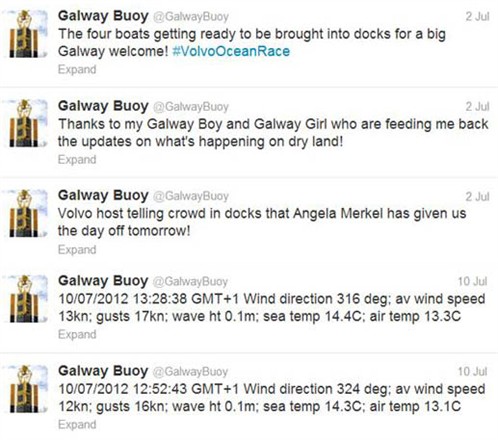 Project demonstrated potential to expand information services
The Galway Buoy project proved to be a very successful R&D collaborative project, demonstrating the potential of combining social media technologies with sensor developments, using our coastal and marine network infrastructure. 
We have the technical skills, equipment and expertise to develop the concepts (either alone or with strategic partners) on a larger scale and provide a suite of information services to the marine and wider community.
We are now investigating the market requirement and demand, and other types of information that can be captured via sensors and transmitted over our Automatic Identification System (AIS) network. We are collaborating with third parties to use our coastal infrastructure to trial new sensors and develop customised AIS message types and associated decoder software.
The experience and knowledge gained during this project contributed greatly to the development of our Technology and Data Services strategy and the development of our 3 Pillar objectives.
Sample media coverage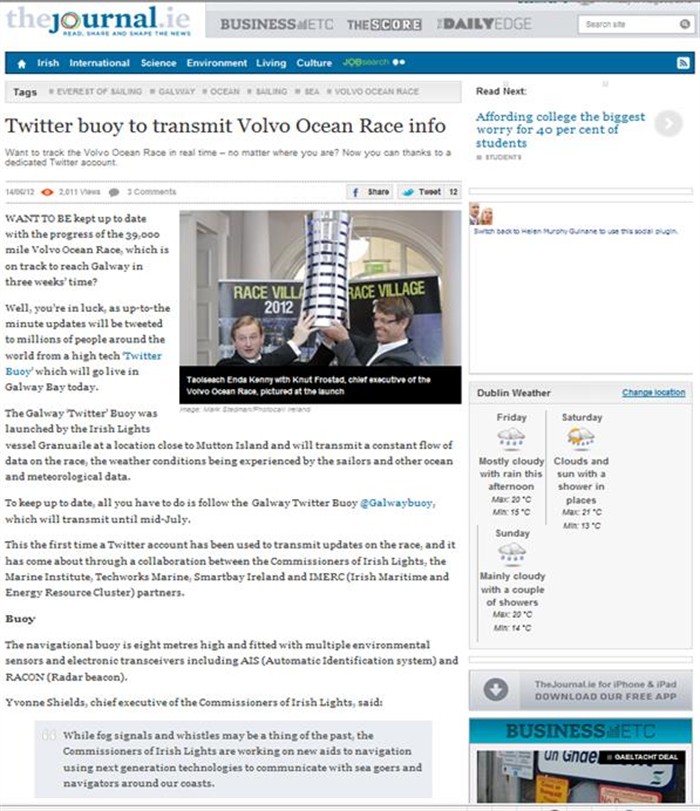 TheJournal.ie 14th June 2012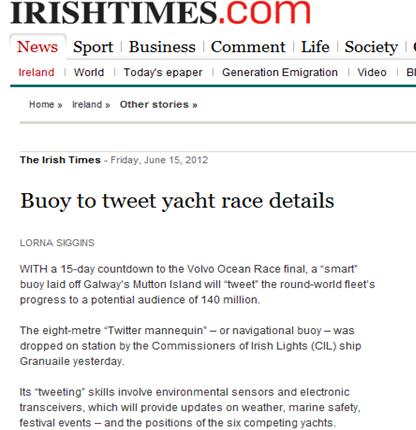 Irish Times Friday 15th June 2012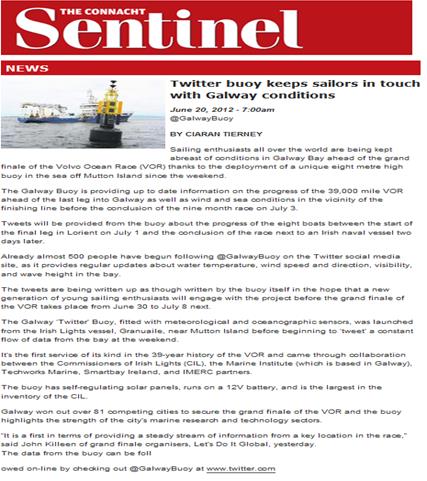 Connacht Sentinel 20th June 2012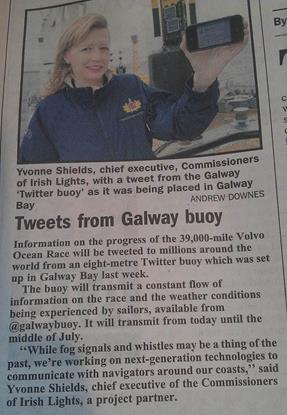 Sunday Business Post 17th June 2012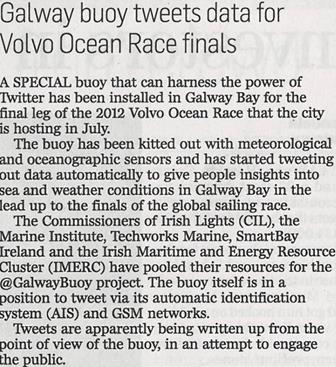 Irish Independent Business Section 21st June 2012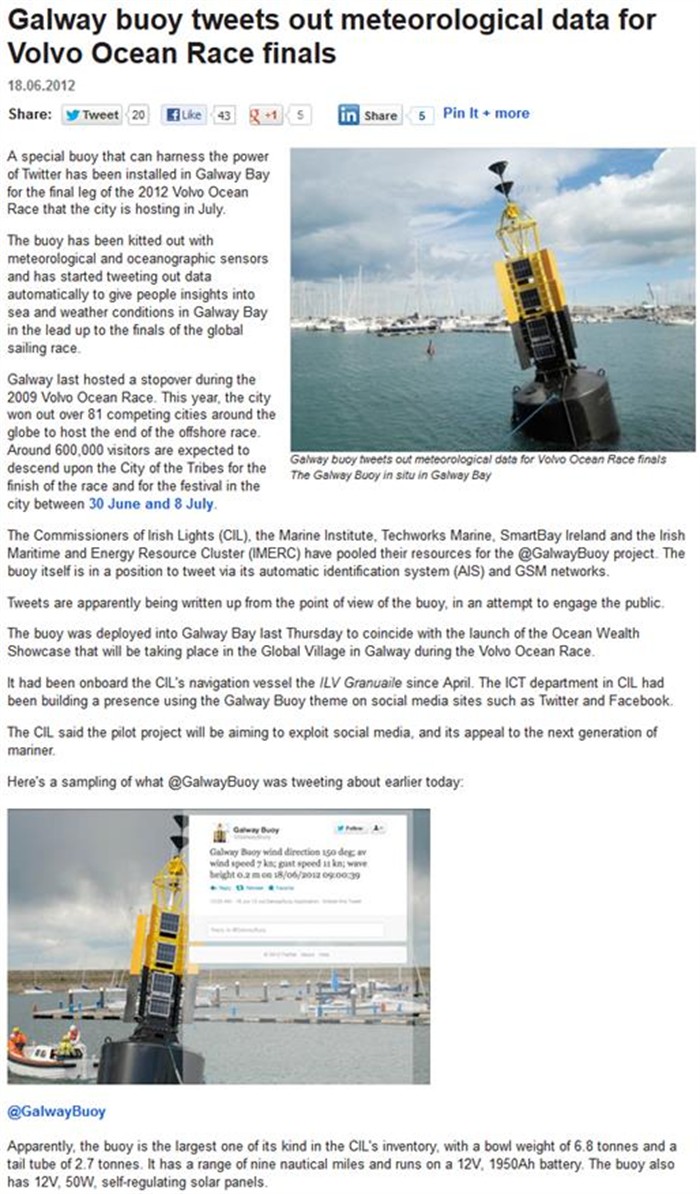 SiliconRepublic.com 16th June 2012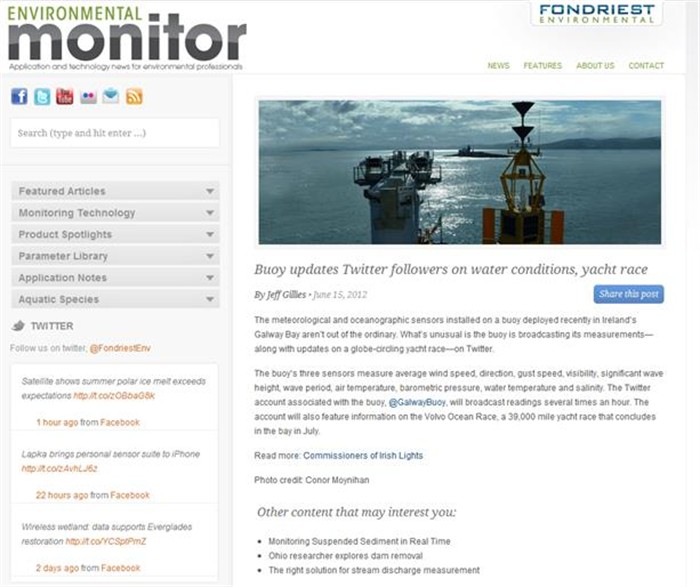 Fondriest Environmental  www.fondriest.com (Ohio)