There has been a Lighthouse on Roancarrigmore at the Eastern Entrance to Castletownbere, County Cork, since 1847.
On 30th April 2012, after 165 of service from the old lighthouse station, a new state of the art lighthouse was officially lighted by the Minister for Agriculture, Food and Marine, Simon Coveney, T.D.
Roancarrig is the first of a new generation of Irish Lighthouses. The Commissioners of Irish Lights have designed a stainless steel tower with LED Light and 12 x 50W Solar Panels to replace the extensive Masonry Tower, Dwellings, Diesel Generators, and 100 Volt, 1,500 Watt filament lamp of the previous station.
The Commissioners of Irish Lights have taken an international lead on the development of this new generation of lighthouses. The new station delivers: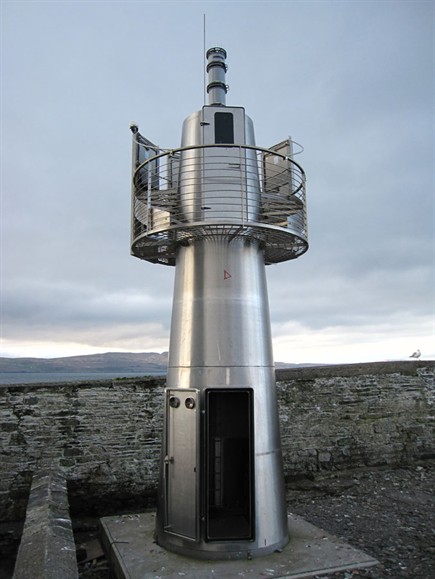 Improved service for the mariner. Low voltage LED lights provide a clearer quality of light and are far more reliable than traditional filament lamps. The sectored light will be supplemented and monitored by Automatic Identification System (AIS) functionality which advises the mariner directly on their bridge of the status and position of the light. AIS is a key component of the International Maritime Organisation e-Navigation project and will ensure Roancarrig is equipped to take advantage of this initiative.
Significant cost savings as the new lighthouse will operate with very low maintenance.
Environment benefits from the replacement of diesel generation by renewable energy and the ending of waste water and refuse disposal.
Roancarrigmore is a harbour light used as a guide in Bantry Bay and lighting the eastern entrance to Berehaven. It was requested by the Coast Guard service at Castletownbere in 1838.

The original buildings were designed by Inspector George Halpin and built under contract by Mr Howard of Limerick. The disused tower is white with a black band.

The light was first established on 1st August 1847.

Shore dwellings for the Keepers and their families were built at Castletownbere in the early 1900s but the station had been relieving from 1896 with the Keepers living in lodgings in Castletownbere.

The light was converted from vapourised paraffin to electric on 23rd September 1975 at which time the station became unwatched.
 
The station is in the care of an Attendant and the aids to navigation are also monitored via a telemetry link from the Lighthouse Depot in Dun Laoghaire.