Originally part of the Finnish Maritime Administration, Meritaito Ltd is now a state-owned company specialising in the maintenance and development of waterways and marine infrastructure. As part of the Dublin Bay Digital Diamond Project, Irish Lights are working with Meritaito to carry out performance and survivability tests on spar buoys in Irish waters. Two spar buoys, one cardinal and one lateral, will be deployed in close proximity to the Bennet Bank and West Blackwater buoys to conduct comparison and performance tests. The buoys are expected to be deployed by Granuaile in the late summer of 2014. Apart from the difference in structural profile and performance we will test the suitability of pre-stressed moorings.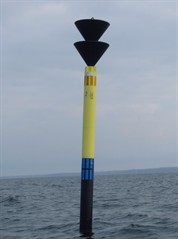 As with most countries that have to contend with ice on their waterways Finland has found Spar (tube) type buoys to be the best design for dealing with ice flows. While the slim profile is particularly well suited to ice conditions they can suffer from conspicuity problems when compared with conventional buoys.
Mertaito are interested to see how their Spar type buoys would perform in ice free waters outside the Baltic region and we are interested to see how their buoys and associated systems would perform in comparison with our own designs and mooring arrangements.
Following discussions with our Finnish counterparts, it was agreed that lessons could be learned from both parties in formally testing the suitability of Spar buoys in ice free waters. While theoretical analysis has its values, it was felt that there is nothing quite as authentic as testing in the real environment.
Both partners in this project will broaden their knowledge and experience in many areas of buoy deployment and maintenance, including but not limited to the following considerations;
Navigation
How do spar buoys compare with conventional buoys as radar targets, light range and day-mark conspicuity?
Survivability
Are spar buoys more forgiving and less liable to damage (for both parties) if in collision with a vessel?
How do spar buoys behave in high sea states in comparison to conventional buoys?
Maintenance
Comparison of maintenance requirements in moorings and systems.
Potential to reduce maintenance visits.
Potential of full life deployment.
Can single battery packs compare with Solar powered systems?
Can solar panels be integrated into top marks?
Moorings
Can constant tension moorings be used successfully at certain Irish stations? (Low tidal range and relatively sheltered)
Can Granuaile improve existing deployment methodology on constant tension moorings?
Sensors
Testing of tide gauge accuracy on constant tension mooring buoys.
Testing of accuracy on current gauge.
Potential for monitoring toxic substances in the water.
Costs and Environmental
Capital and Maintenance costs comparisons between spar and conventional buoys.
Environmental advantages/disadvantages from using polypropylene materials.
The project will take between one and two years to complete and while the core function is to compare performance and survivability, both parties are open to stimulate ideas and explore other areas of AtoN provision as they arise. Apart from the potential advantages to Irish Lights, other stakeholders, particularly local providers of AtoNs will benefit from the analysis of new technology that may be applied to their own floating and fixed aids. 
RECENT EXPERIMENTAL PROJECTS
Testing new equipment and methodologies have been a fundamental part of Irish Light's evolution. This is evident from the steady growth in performance and efficiencies made in recent times. Irish Light's design engineers have worked closely with colleagues in the GLA Research and Radionavigation Directorate to produce high performance lanterns that require reduced electrical power cumulating in massive reductions in maintenance costs and carbon emissions from our stations.
We have seen changes in buoy power sources from acetylene gas in the 1980s to solar power today and we now see rapid advances in self-contained lanterns which will bring us further savings in capital and maintenance costs. We are presently testing a section of fibre moorings on the South Rock buoy which if successful, will allow us deploy relatively light weight buoys in deep water.
Other advances have been made such as AIS for enhanced spatial awareness and monitoring and real time weather and environmental information to help mariners make better decisions when planning passage.
As we move into the e-Navigation era we will continue to experiment with equipment and methods to drive down costs and reduce our carbon footprint while still maintaining an appropriate mix of high performance aids to navigation to our most valued stakeholder, the Mariner.