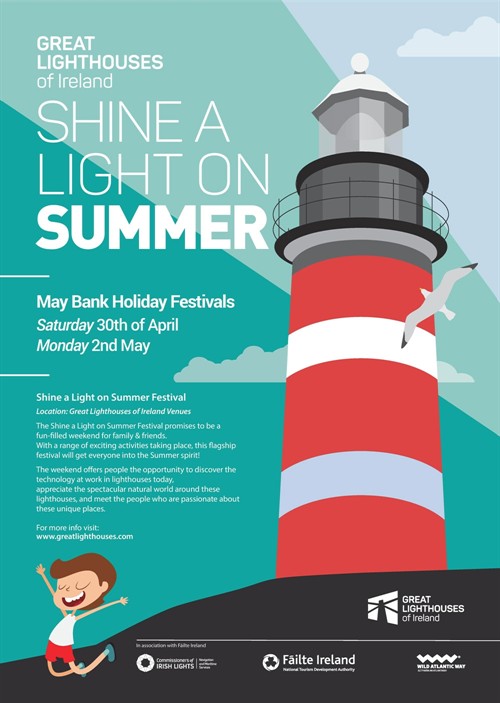 From Saturday 30th April – Monday 2nd May 2016, a flagship festival will take place across eight of the 12 Great Lighthouses of Ireland. Getting everyone into the summer spirit, delve into amazing coastal experiences, meet storykeepers and guides, enjoy maritime, craft and technology demonstrations while discovering the world of shipwrecks beneath the waves.
For hundreds of years Irish lighthouses have helped seafarers find their way. Today, these stunning structures shine their light on a truly unique experience around the exquisite coastline of Ireland.
Great Lighthouses of Ireland invites visitors and friends to an exciting May Bank Holiday Festival weekend brimming with family fun. With fantastic storytelling and captivating tours taking place in eight of our 12 iconic lighthouses along the Wild Atlantic Way, Ireland's Ancient East and all the way up to Rathlin Island, a memorable, fun-filled weekend is in store.
Come and find yourself immersed in maritime history, surrounded by spectacular natural scenery while discovering the very technology at work in lighthouses today. Visitors can also meet the people and communities who are passionate about these stunning places.
Get great ideas on how best to enjoy the coast this summer, as well as tips on coastal safety, as you explore our towers, discover their hidden secrets and much more. From Hook in Wexford to Valentia Island in Kerry, by Loop Head in Clare to Donegal's Fanad Head and beyond – there's so much to uncover at these towers of light this May Bank Holiday.
So many exciting events
Kick-start the summer with a celebration, throughout the festival each lighthouse location will offer storytelling, local craft demonstrations and competitions.
Reaching the top of a lighthouse tower and embracing those incredible views is a special moment, touring the tower offer visitors a special opportunity to get behind the scenes with experts from the Commissioners of Irish Lights and learn about lighthouse technology and navigation today. Local historians and storykeepers will also provide tours that showcase natural and cultural highlights.  
Festival Highlights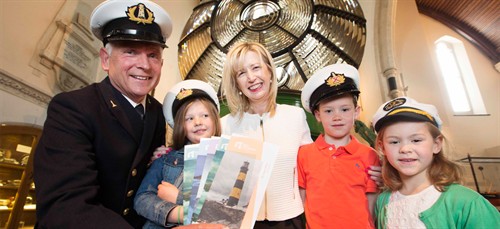 The official opening event for this new lighthouse visitor attraction and accommodation takes place on Friday 29th April. Operated by Fanad Community, it's the only lighthouse in the Gaeltacht open to the public and is a Signature Discovery Point along the Wild Atlantic Way. There will be family, Irish language-based entertainment on the day, as well as craft and music sessions too.
Find out more about Fanad Lighthouse
An open day takes place on the island on Sunday afternoon on the 1st May, complete with an all-women's choir recital from The Singing Sistas.
Find out more about Clare Island
Loop Head will offer family-friendly events that include tours, storytelling, a local food and craft showcase, as well as marine safety demonstrations. The peninsula is ripe for discovery too with guided walks departing at 11am on Monday. Loop Head is a great place to experience – click here to book your stay.
Sunday 1st May is the day to be there and listen a heritage talk on this 17th Century Cromwell Fort  listen to a  traditional music session  in the dwelling house and watch the  RNLI life boat  and sea rescue helicopter perform manoeuvres around the lighthouse.   Visitors will also hear stories detailing the Dark Sky Reserve, and the birth of our modern-day communications systems, all this followed with a B.B.Q!
Find out more about Valentia Island Lighthouse
Ballycotton Island Lighthouse Tours are teaming up with the Ballycotton Lifeboat Crew to 'Shine a light on Safety' as well as summer fun. On Sunday 1st May the Ballycotton Lifeboat House and shop will be open to visitors and members of the Ballycotton Lifeboat Crew will be there to show children what they do and tell visitors a little about Ballycotton shipwreck and rescue stories.
Eddie Fitzgerald, a Ballycotton Island Lighthouse tour guide and former Ballycotton lighthouse keeper will be 'story telling' in the Ballycotton Lifeboat House… what was it really like living and working offshore on Ballycotton island?
Ballycotton Island Lighthouse Tours will also be running competitions for families to win trips to the lighthouse and, weather permitting, they will take visitors out on short tours of Ballycotton Bay on their ferry 'Yassy'.
Find out more about Ballycotton Lighthouse
Hosting their Maritime Matters weekend of family fun for all.  Starting with Andy Mac Big Saturday Show with Beat FM on Site with Fun and Games for all the Family with Pirate Pat and Captain Hook. The RNLI and Coast Guard will be giving coastal safety advice, Wolfhound Archaeology will dig up some Vikings, check out the Exploration Dome mobile planetarium and more.
For more details download the Maritime Matters Festival leaflet.
Find out more about Hook Lighthouse
Get to the Island and the West Light and see this recently opened visitor experience – described as a project of romance –   the marriage of the seabird colony and the only upside down lighthouse delivers a really special attraction and one to be savoured.   See the Lighthouse Keepers bedroom, test your skills and tie nautical knots, have lots of   family fun while you welcome back and enjoy the sights of   those comical clowns, the puffins!
Find out more about Rathlin West Light

With all this and more happening around the coast this summer, why not plan a trip to one of the Great Lighthouses of Ireland? Find everything you need to know here.