Irish Light's statutory duties
The Commissioners of Irish Lights is vested under Section 634 of the Merchant Shipping Act 1894 with the responsibility for superintendence and management of all lighthouses and other aids to navigation for Ireland (North and South) and the adjacent seas and islands. 
The Merchant Shipping Act 1995 Section 195 (1) empowers us with the same function for Northern Ireland and adjacent seas and islands.
Aids to navigation: We are responsible for discharging the Irish Government's obligations under the SOLAS Convention 1974 to provide marine aids to navigation (AtoN) in the Republic of Ireland and the UK government's SOLAS obligations to provide marine AtoN in Northern Ireland.
Aids to navigation are provided to standards set by the International Association of Marine Aids to Navigation and Lighthouse Authorities (IALA).
Wrecks: We have responsibility for marking and removing wrecks in the Republic of Ireland under the Merchant Shipping (Salvage and Wreck) Act 1993, Part IV and in Northern Ireland under the Merchant Shipping Act 1995, Section 253(1). 
Funding of service
We are funded from three sources:
Light dues are collected from commercial ships arriving into Irish and UK ports and paid into the General Lighthouse Fund (GLF) for the UK and Ireland.  The Revenue Commissioners Customs & Excise division collect the light dues in the Republic of Ireland and the Institute of Chartered Shipbrokers has this responsibility for Northern Ireland.
The Irish Government contribute to the fund under a forumla agreed between the Irish and UK governments.
Funds generated by our commercial activities.
Our Board
The Board meets eight times a year to review and update its strategies and to oversee the effective and efficient operation of the organisation.  From 2013, new Commissioners will be appointed for a five year term with the possibility of a renewal for another five years.  Appointement of new Comissioners to fill vacant positions is advertised in the national press in both the Republic of Ireland and Northern Ireland.  Such appointments are subject to negative resolution by An Taoiseach.  Commissioners do not receive any remuneration for their services.
Ex-Officio Board Members
Chief Executive and Management Team
Irish Lights Committees
A number of committees advise the Board on strategic issues and compliance with best-practice corporate governance. Each committee is advisory, with no executive powers.

Nominations Committee – nominates individuals to be considered for election as Commissioners and appointment to the Board.

Audit & Risk Committee – reviews the effectiveness of the internal control systems, including corporate governance, in conjunction with the Accounting Officer.

Remuneration Committee – determines remuneration for the Chief Executive and Directors, and the policy remuneration for the organisation.

Corporate Management Committee – considers future strategic direction, corporate plan, annual budget and financial management issues.

Inspecting Committee – one or two inspections take place annually to consider policy and safety issues relating to stations, ensure that AtoN provided are commensurate with the amount of traffic and degree of risk, and review proposed capital / maintenance programmes.
Organisation structure
The effective and economic delivery of our new strategy required a new organisational structure and approach. Since January 2013 we have operated a new structure focused on:
individual and collective accountability
delivery of results
value for money
Our workforce rapidly embraced the new structure.  We recognise that our continued success depends on the commitment and dedication of employees.
Three Service Departments were established:
Operations & Navigation Services – navigation policy and delivery of user services
Technology & Data Services – delivery of internal and external data services and e-Navigation, and development of next-generation navigation and safety services
Corporate Services – corporate governance, financial management, procurement, commercial services decision support
Two Special Purpose Units were also established:
Human Resources – resourcing, training and supporting our employees
Commercial Services – delivery of increased commercial revenues, expanding commercial and value-added services
Overview of the Irish Lights organisation structure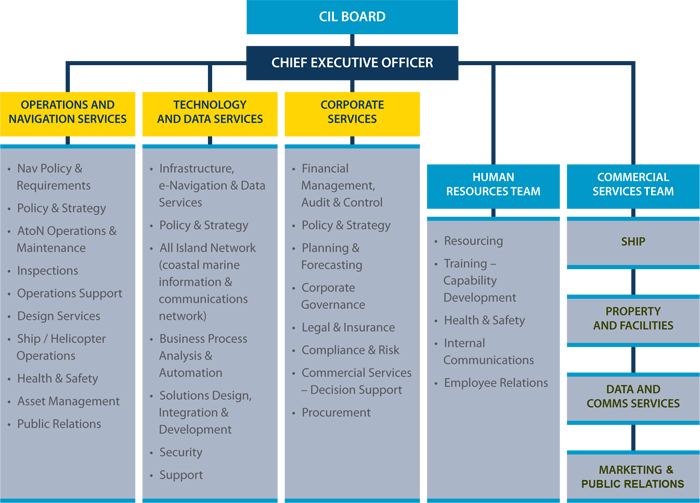 Save
Save
Save
Save
Save
Save
Save
Save
Save
Save
Save
Save
Save
Save
Save
Save
Save
Save
Save
Save
Save
Save
Save
Save
Save
Save
Save
Save
Save
Save
Save
Save
Save
Save
Save
Save
Save
Save
Save
Save
Save
Save
Save
Save
Save
Save
Save
Save
Save
Save
Save
Save
Save
Save
Save
Save
Save
Save
Save
Save
Save
Save
Save
Save
Save
Save
Save
Save
Save
Save
Save
Save
Save
Save
Save
Save
Save
Save
Save
Save
Save
Save
Save
Save
Save
Save
Save
Save
Save
Save
Save
Save
Save
Save
Save
Save
Save
Save
Save
Save
Save
Save
Save
Save
Save
Save
Save
Save
Save
Save
Save
Save
Save
Save
Save
Save
Save
Save
Save
Save
Save
Save
Save
Save
Save
Save
Save
Save
Save
Save
Save
Save
Save
Save
Save
Save
Save
Save
Save
Save
Save
Save
Save
Save
Save
Save
Save
Save
Save
Save
Save
Save
Save
Save
Save
Save
Save
Save
Save
Save
Save
Save
Save
Save
Save
Save
Save
Save
Save
Save
Save
Save
Save
Save
Save
Save