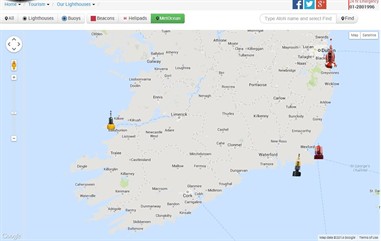 The buoy situated at the entrance to our headquarters in Dun Laoghaire, Co. Dublin (temporarily relocated to Drogheda Port, for the Irish Maritime Festival 19th - 21st June), is typical of the Smart Buoys that we have deployed around the coast at Dublin Bay, Finnis, Foyle, South Hunter, Coningbeg, Splaugh and Ballybunion.  Click any of these links to see their live Twitter feeds.
This buoy is a first class west cardinal marker buoy – weighing approximately 6.5 tonnes and measuring 3m in diameter – and is equipped with AIS communications capabilities.
Our network of Smart Buoys, are fitted with range of environmental sensors and the data is transmitted to Irish Lights Dun Laoghaire for storage, analysis and further public transmission via social networks and the Internet. The anemometer and wind vane sensors are visible near the top of this buoy.
Our Smart Buoys currently provide the mariner with traditional visual navigational information as well as Internet-accessible environmental information from around the coast of Ireland, including:
Sea state (Wave Height, Wave Period)
Weather conditions (Wind Speed, Wind Direction, Gust Speed, Gust Direction)
Water

Temperature
Sensors to measure other parameters may also be fitted including Air Pressure and Water Quality. Data from any of these sensors can be used for academic, research, testing and planning purposes.
We are increasing the number of Smart Buoys deployed to provide greater coverage and a more localised MetOcean service around the coast of Ireland. Twelve sites will be deployed by the end of 2015 (a combination of buoys and lighthouses). A new sensor pack providing Average Wind Speed, Gust Speed, Wind Direction and Gust Direction has been fitted at the Fastnet Lighthouse.
View our Met Ocean portal, to see and compare data for our sensor network.
For more information or feedback please contact our Technology and Data Services Team:
Email:       info@irishlights.ie
Phone:     +353 1 271 5400